Haxpo Highlights
May 9th & 10th
Soldering Village with Mitch Altman
---
Anyone can learn to solder! Even if you have never made anything in your life, you can learn this very useful and enjoyable skill. It really is fun! Mitch will bring kits to make cool, practical, intriguing, hackable things that you can bring home after you make it.
HITB Armory by ToolsWatch
---
Organized in collaboration with Tools Watch and Opposing Force, the HITB Armory is a brand new dedicated area where independent researchers will get to show off their projects, run their demos and allow you to play around with their awesome security tools!
Capture The Flag Live Hacking Contest
---
Chronologists, Time travelers and Fellow Futurologists, Join us at our exhibition on creative technical fiasco's through the ages: the Chronicles of Total Failure. 27 teams from around the world will compete to find the finest selection of interactive calamities, tragedies and faux pas that once haunted the pioneers of the cyber technology frontier.
Car Hacking Village by CHV Defcon
---
Defcon's Car Hacking Village will be on-hand with REAL car dashboards for you to play with and everything you need to know to get started with automotive security research and hackery. The tools you'll need, the software to install and all the tips and tricks to start riding the CANBUS!
AI Village / Self Racing Car Challenge
---
Come by the AI village to see the latest in the world of machine learning and deep learning plus learn how to build, train, and race a self-driving model car based on the 1/16th scale Donkey Car project (http://www.donkeycar.com/)! Sign up your team and we'll provide you with a kit (worth approximately USD 285 each) - you have 3 days to build, test and race your cars!
HITB Badge Village
---
There will be a special edition electronic badge for the 10th year anniversary of HITB in The Netherlands! Come by the HITB Badge village and learn how to hack your special edition badge and expand its functionality! We'll show you how to get started reprogramming the badge and hacking it to do more stuff! Unlock secret features, challenges and more!
Hack In The Class
---
Most kids aren't exposed to interesting hacking stuff at their schools. These junior hackers don't fit into the square hole. They belong in a 'hacky classroom' – one which teaches real tech subjects. With this in mind, we decided to start something new for kids like these at HITB – we call it Hack in The Class. If you are a kid aged 12 and up, drop by where we will have microelectronics for you to program and hack on, a mini web treasure hunt and also a web hacking challenge!
Lock Picking Village by TOOOL NL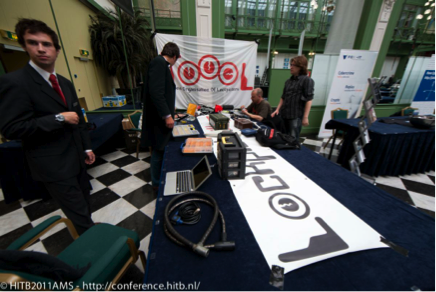 ---
Want to tinker with locks and tools the likes of which you've only seen in movies featuring police, spies, and secret agents? Then come on by the Lockpick Village, run by The Open Organisation Of Lockpickers, where you will have the opportunity to learn hands-on how the fundamental hardware of physical security operates and how it can be compromised.
Conference Speakers
May 9th & 10th
Videos from HITBSecConf2018 - Amsterdam
UP